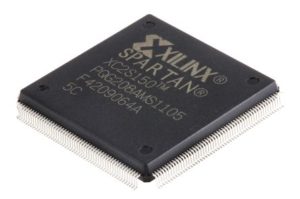 FPGA Programming
A coprocessor is a supplementary processor unit or an entirely different circuitry that is designed to complement the central processing unit (CPU) of a computer. The field-programmable gate array (FPGA) is a typical example of coprocessor. Epigenesys offers personalized cosultancy to develop hardware-software systems based on the FPGA technology and tailored to user's requirements.
Consultancy covers all customer needs from selecting the hardware to designing the product.
Depending on the customer's requirements, we may suggest to adopt the well known RTL methodology together with the VHDL or the Verilog language, or the more recent "High-Level Synthesis (HLS)" which allows to describe complex algorithms using high level languages such as C.
The end product may be a whole self-contained system, or a customizable hardware integrated package that can be used in several projects depending on the user's needs.
FPGA Courses
The courses are meant to introduce FPGA circuits and FPGA programming and to illustrate development methodologies.
All lectures include a theoretical and a practical side aimed at grasping the theoretical side.
The FPGA chips and the development environment used in the courses are those found in Xilinx development boards.
FPGA programming course- Beginner level